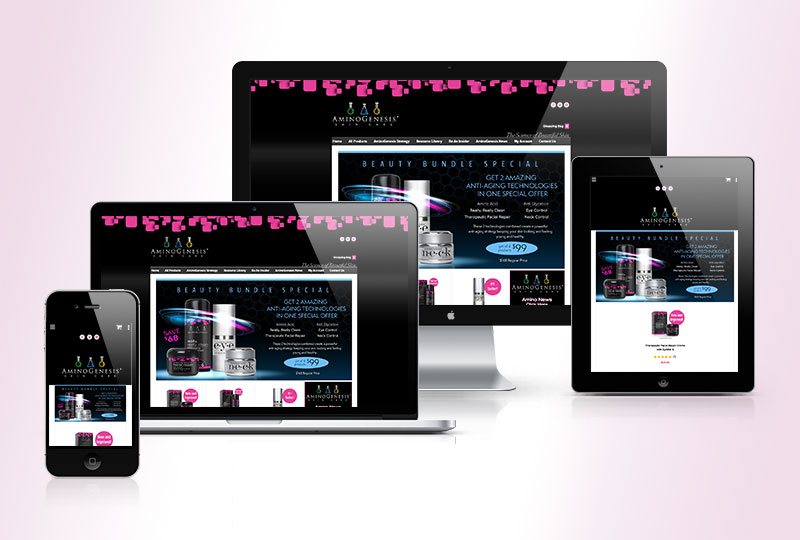 This is a custom responsive 3dCart e-commerce store design for an anti-aging skincare product line. The new responsive 3dCart custom design helped this business retain its search engine rankings before and after Google's Mobile-Friendly Search Algorithm Upgrade. Our clients appreciate our design style and attention to detail and that we've developed other successful e-commerce websites for beauty, cosmetics and anti-aging products, so they entrusted us with creating a beautiful new modern store design to showcase their futuristic aminotherapy products. The old store design was outdated and only half-coded in HTML 5. It was not responsive or Google Mobile-Friendly, which would mean a HUGE drop in search engine rankings if uncorrected. Thankfully, our custom 3dCart responsive design gave this store the boost it needed in the nick of time. With Chromacor's 3dcart expert design and responsive e-commerce coding, we've retained search rankings, improved conversions on mobile phones and tablets, and we've made several fixes and upgrades to fine-tune site performance and to ensure that their add-on features work properly when previously they didn't work at all. We developed and launched a beautiful new 3dCart custom store theme design that is completely responsive and coded in HTML 5, passing the Google Mobile-Friendly test with ease.
Our custom 3dCart responsive store design includes some important extras for this proud 3dCart store owner:
Responsive content page design that has device-adaptive columns.
Responsive tabbed product listing pages.
Responsive custom device-adaptive embedded video page that retains column layout and neatly adjusts video sizes.
Responsive home page with responsive device-adaptive custom drop-down menu navigation.
Responsive video page to showcase YouTube videos.
Responsive 3dCarousel home page slideshow and slides that can be enabled or disabled in the store admin.
MailChimp/3dCart API Integration.
Custom Email Newsletter Signup Form.
Custom responsive GPS-enabled dealer/store locator.
3dCart Checkout Upsell integration.
Watermarked copyrighted product images.
Print-quality, responsive before-and-after images in featured product descriptions.